Attractions at Lehigh Valley Scream Park
HOLLOW OF HORROR HAYRIDE-
Your journey begins on a tractor pulled wagon through 50 acres of back woods farm fear and terrain like no other. As you start the decent down the mountainside, you will quickly come to realize that there is no other hayride quite like this one. There is no real protection between you and the elements of the dark woods. Continue to be on the lookout as there is very little pause in the horrific action in the hollow of horror hayride. As you near the bottom, you will come to realize you made it to the real swamps of Lowhill. Keep your feet up as those slimy swamps hold more than just snakes and bullfrogs. If you think this is something you can endure, climb aboard one of the newest hayrides in the east for the time of your life…
CONDEMNED HAUNTED HOUSE-
After the fire and total loss of the hillbilly hell haunted house, aunt lu lu along with all of her inbred family landed up just a short distance away shacked up in an old mansion that was boarded up and condemned by the town back in the 60's after an entire family was chopped up, dissected and smoked for lunch meat.  But aunt lulu has made it her new home bringing her yunguns with her. The story goes that the person killing his family members for food was only ten years old and was never found. Neighbors still swear they still see him  running around at night. So beware this is a brand new haunted house at a completely different location on the farm that will scare the crap out of everyone. Be ready to see things you have never encountered in any other haunted house.
OPERATION BIO PURGE-
You must first be cleared of all bio-hazards before venturing down under this once top secret military bunker. This brand new attraction includes the only known accelerated outbreak scanners in the country built by the military for testing of positive cases of bio-activity. This was used regularly in the 70's during their stint of human nuclear hybrid testing down in these underground bunkers, but as you will learn things went awry in a hurry. What appears to be normal military actions quickly turns to a revolting mutant type display of unethical testing that will assure to scare the crap out of the most seasoned haunter. Just when you thought your trek couldn't get worse, you are led to the old military base camp that is now nothing more than a wasteland maze. Try and keep your head together as this is a high intensity  maze with only one exit and once you're started, finding your way back is not an option.
PSYCHO PATH
After you unload from the hayride, you will soon realize you never really made it out of the hollow of horror and the only way out is through the psycho path haunted trail through the corn field. You must find your way back to civilization, but don't worry…No one will hear you scream down there! Psycho path includes things that you absolutely have never seen before!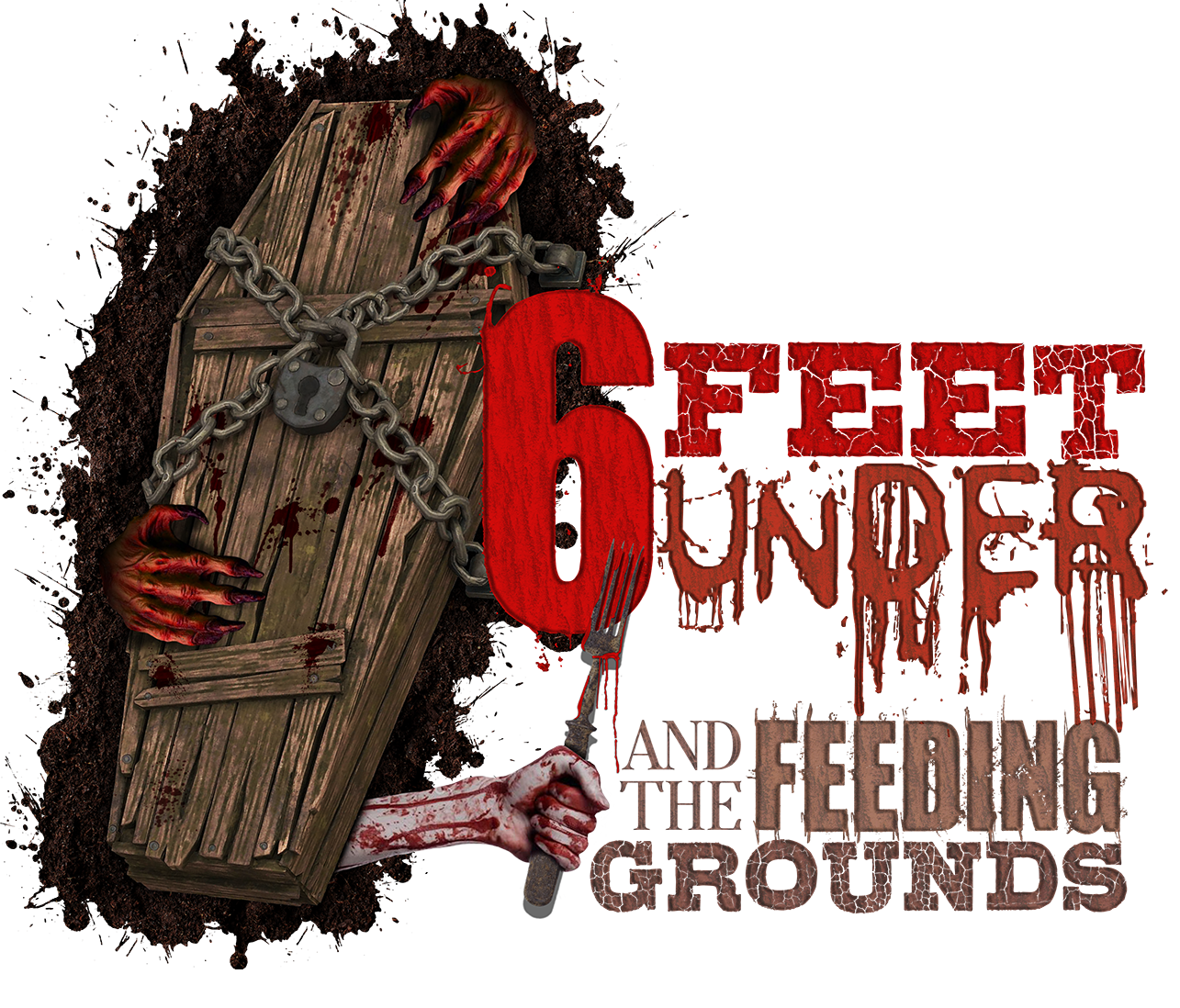 6 Feet Under New Entertainment Area
You can now enjoy a full evening out during the fall Halloween season in our brand new entertainment area. This 2 acre area is now filled with music, huge fire pit, food and beverages of all kinds so that you can make it a family night, date night or a friends night out. Along with the food and drinks we've always had, we will be making fresh pizza on the wood fired brick oven. A DJ will be playing music each evening so come early and stay late as there is plenty to do and lots of parking. By adding our brand new "Call to queue," you will not spend your whole night standing in line. That's right! Enjoy the entertainment area, sit by the fire, and have a drink or farm fresh cut fries and we will call you when your turn comes up! This will minimize that dreadful queue line experience of the past!